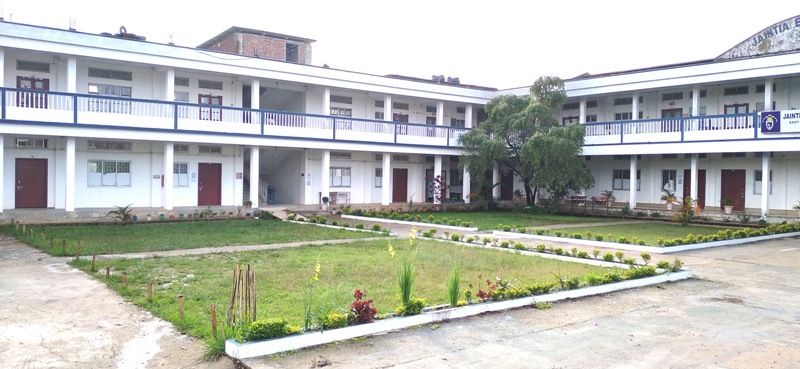 Jaintia Eastern College, Khliehriat being the premier seat of learning in the Eastern part of Meghalaya is permanently affiliated to North Eastern Hill University (NEHU), Shillong and recognized under sections 2(f) and 12(B) of UGC Act 1956. The College is funded by the Government under the 'People's College Scheme' and Reaccredited Grade 'B' by NAAC in 2021. To enhance the teaching learning process and monitoring the quality education delivered in the college, Internal Quality Assurance Cell (IQAC) was established in 2014 under the coordinatorship of senior Assistant Professor.
At a meeting held on 16th June, 1992 at Moowakhu, Dkhiah that was chaired by Late Rev TiplangDkhar, the then President of Society For Higher Education, the feasibility of a college in Arts at Khliehriat was dis­cussed. A resolution was taken in the meeting to establish 'Jaintia Eastern College' which was attended by Late Rev S.W. Lyngdoh, the then Secretary of Society for Higher Education, parents, well-wishers and prominent citizen of erstwhile Khliehriat Civil Sub-Division and many others.
The college started on 1st August 1992 functioning from rented building at Dkhiah village and community hall, Khliehriat West under the principalship of Dr. Phervision Nongtdu, M.Sc, MA, Ph.D. It was formally inaugurated on the 23rd October 1992 by Shri. O.L. Nongtdu, the then Home Minister Govt. of Meghalaya.
Initially the college was started with Pre-University Arts under North Eastern Hill University, Shillong and later it was upgraded to Degree course in Arts and Commerce in 1993 and 2011 respectively. In 1996 the college was shifted to the present campus comprises with UG in Arts and Commerce and PG courses in MA in Khasi and Education.
Vision, Mission and Objectives of the College
Motto: "Education for All"
Vision
To provide quality and affordable; Education to all sections of the society.
Objectives
To impart higher and quality education in rural areas.
To provide vocational trainings to the educated unemployed youths.
To impart skills on Information Technology.
To provide career guidance and counseling.
To promote environmental awareness.
To transform the young minds through moral and ethical education based on value system
Mission
The College is committed to serve the society by developing the young generation to face the challenges of this contemporary world and to remain socio-economically alert. Through knowledge-based education, students are sensitized to be competent in the employment opportunities also. Apart from creating an atmosphere to promote all round development of an individual, the college also equip them to become good citizens and to meet the social needs of our nation, not just a mere job seekers. Through various college-activities, an awareness regarding preservation and restoration of the environment is also in the roadmap of the college.