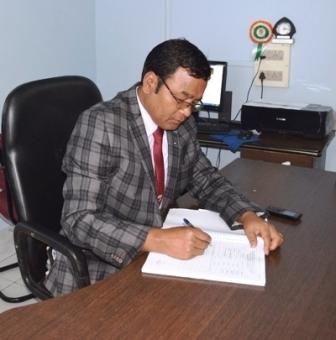 I am privileged to extend to you a cordial and loving welcome into the portals of Jaintia Eastern College to UG/PG Arts and Commerce for the Academic Year 2022-2023. The College provides a conducive learning environment in Higher Education, especially for young men and women who seek education away from home. The College enjoys an unparalleled reputation, and our beneficiaries choose to send their wards in this institute for well-adjusted education which also emphasizes character building.
Conveniently, the College located at Khliehriat, the district headquarters of East Jaintia Hills along the National Highway No. 6 and it is easily accessible. The College is managed and run by the Society for Higher Education, founded in 1992. It will be completed three decades of existence in August 2022, and in this span of time has incrementally striven to provide quality education, blending knowledge with employability. Grooming future for men and women leaders as well as instilling environmentally friendly ethos in its students is what Jaintia Eastern College prides itself on.
As one enters the gates of Jaintia Eastern College, one is greeted by a lush green ambience. The spacious campus instantly relaxes and rejuvenates a visitor as well as a learner and the faculty. The College boasts of ICT classrooms, Wi-Fi, Broadband connectivity and well furnishes separate toilets for students and faculty.
The college not only ensures academic development of the students but also provides them with opportunities to prove themselves by means of extracurricular activities through NSS, NCC, EBSB, Games & Sports activities. Moreover, National and Regional seminars/workshops are also conducted and participated as a part of the college's academic activities.
Our teaching faculty are young and highly qualified and distinguished in their domain. They are our intellectual assets and walk the extra mile beyond the four walls of the classroom to keep students well informed and provides various academic amenities and ensuring student mentoring to meet academic interests. As a reputed educational institution, the management, faculty, students, administrative and support staff and our esteemed parents function as a united family with a common goal for academic excellence along with integrated and inclusive development of the students.
Our vision emphasizes the holistic development of youths through education amidst a challenging, changing, and developing society and our mission is to educate youths for an altruistic leadership by integrating academic excellence and human ethics. We look forward to your contribution as students of the College along with continued support and guidance of all our stakeholders to take this institution to heights of relevance and glory in building character and careers. Together we move ahead for the enhancement of College and for the betterment of our state.
Once again, a loving welcome and God Bless You.
Dr. Phervision Nongtdu
Principal