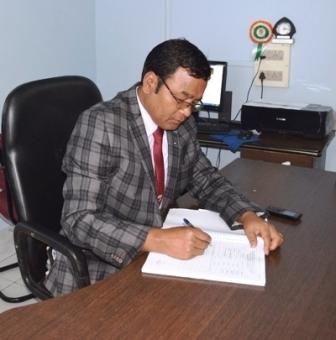 We, at Jaintia Eastern College (JEC), understand the anxiety as well as hopes of young students and their families as they step out of the structured domain of school curriculum into the expansive world of higher education. JEC is an affiliated College of North Eastern Hill University and is a part of its history, evolution and vision of transforming society through education. The college had humble beginnings in 1992 when it was established with the aspiration of providing higher education to the rural poor youths, including migrant workers coming from different parts of country. Despite many hurdles, the college still carries within itself the belief in education being an unsurpassed way of channelizing talents and energies of the young generation in a manner that not only brings out the best in their own individual selves but also makes them sensitive to values of justice, liberty, equality and fraternity.
JEC welcomes its fresh entrants with the warmth of a family and leads them on to gradually gain independence of thought, a keen sense of inquiry and a search for wisdom. We hope that by the time our students leave the gates of this institution they are enriched not just with factual and theoretical knowledge but also with the confidence of fearlessly walking down the path of truth. The college and the college faculty too, in turn, continue to learn from students.
We have tried to evolve with the inputs every batch of students brings to us by renewing and renovating programmes connected with academics, sports, NSS, RCC and other extracurricular activities.
On behalf of the whole college, I welcome all our students into meaningful learning system, activity and experience that would lead to an enhancement of energy, talent and capability. I wish the students, parents and teachers a fruitful and peaceful academic year 2020-2021.
Therefore, as we venture through this academic year let's keep in our mind that "Education is the passport to the future, for tomorrow belongs to those who prepare for it today" (Malcolm X).
Thank you.

Dr. P. Nongtdu
Principal, Jaintia Eastern College