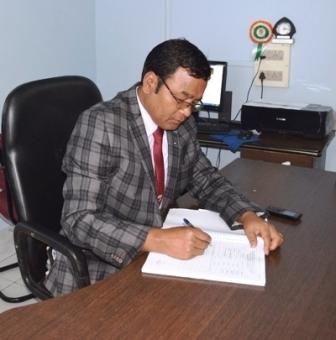 Jaintia Eastern College, Khliehriat significantly plays a very important role in catering to the educational needs of East Jaintia Hills District by offering Under Graduate Programme in Arts and Commerce. The College was established in 1992 with an objective to ease the burden of parents and meet the aspiration of youths by bringing higher education nearer to them.
As an affiliated College of North Eastern Hill University (NEHU), we are implementing the syllabus and courses designed by the said University. Apart from that, we also have our own methods for other academic and extra-curricular activities with a hope to make learning more enjoyable, relevant and effective for our students. Through these different strategies adopted by the college, we have been involving in the process of transforming the society by channelizing the talents of our youths by incorporating in them the value of justice, liberty, democracy, equality, fraternity and whatever is required to contribute in the society.
In spite of the affect of the Covid-19 pandemic on the educational system of our country; right from the lowest to the highest level, Jaintia Eastern College warmly welcomes all the new applicants into the different streams of studies. We also promise to render the best possible education to all students; with a motive to serve our national interest and to develop humanity sentiments among all students in every walk of life.
Though we are locating in the rural area, the management board finds the best way to develop teaching infrastructures in the college by installing additional ICT classrooms so as to make teaching-learning more effective. I am also proud to mention that the college through its teaching faculty has been able to reach out to the students safely by means of online classes to compensate the loss of teaching days due to the pandemic. Hence, if such situation further requires, we will continue to utilize the new mode of online teaching through various means of technology in reaching out to our beloved students.
We ensure that when students graduate from our institution, they are enriched not just with factual and theoretical knowledge but to equip and prepare them to fearlessly face with any situation they come across in life.
Lastly, I also urged upon the students to take part in the extra-curricular activities through NSS, RRC, NCC, Games & Sports, etc., so as to enhance their learning experience and to enable them to face the reality of life by involving in different community services. I wish the students, parents and teachers a fruitful, peaceful and healthy academic year. Therefore as we venture through this academic year let us keep in our mind that "Education is not preparation for life; education is life itself." (John Dewey). It is through education that you can change the face of the world.
Thank you.

Dr. P. Nongtdu
Principal, Jaintia Eastern College